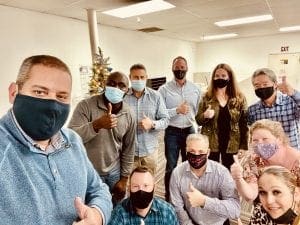 Redi Carpet, the premier flooring provider to the multi-family industry strengthened its market share on the West Coast by acquiring Floormasters, Inc. with locations in both Hayward and Sacramento, California.
Redi Carpet CEO Brian Caress stated, "We are excited to announce that Floormasters is joining the Redi Carpet family. With locations in Hayward and Sacramento, we are now able to serve the highly coveted Northern California area. It is an exciting expansion, and we are proud to welcome the entire Floormasters team to the Redi Carpet family!" Added David Rosenwasser, Senior VP of Business Development, "Even in this difficult operating environment, acquisitions remain a key component of our growth strategy, highlighting our continued focus on expanding our service capability for our multi-family customers."
"We are happy to be a part of Redi Carpet, which is recognized as the leader in multi-family flooring" added Don Lau, owner of Floormasters. "Both companies share a common commitment to product quality and superior customer service." Floormasters has been serving the flooring needs of multi-family communities in Hayward and Sacramento since 1987 and will for now continue to operate under the Floormasters name.